by oneafrikan on June 22, 2009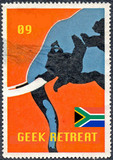 I had no idea what to expect from the GeekRetreat (content will be updated there ov er the next few days so bookmark it) this year, but I did know that there were some smart people going, and I liked the themes being discussed. So I went in with an open and optimistic mind, and in truth with no backslapping, I was thoroughly blown away by the diversity, humility and good nature of the folks there.
Since SxSw 2006, I've maintained that the value of events is generally the conversation outside of the panels / talks, that are the most interesting…. so if you get good, new content, it's a bonus. This weekend I had the pleasure of being in the bush and around campfires, listening to some smart people talking about interesting things, as well as getting to explore *stuff* outside of formal talks.
So I'm really happy I had the privilege to go, and more importantly came away with renewed energy for South Africa, respect and new friends.
Check out the twitter stream for live commentary.
What follows are brief thoughts that I took home or that stood out for me, in no particular order:
"The best thing that South Africa exports, are South Africans themselves" Shapshak 2009
Taking the risk to start something seems to be the largest hurdle people talked about.  Note that this is a psychological one, not a physical one.
Vinny Lingham said some interesting things around funding and seed capital – mainly that there is money around, but little opportunity for early stage investors to cash out with local VC's.  Vc's in SA are also run by accountants, with an obvious connotation.
Thus it seems that cultural baggage and an early stage funding vacuum, are primarily responsible for the relatively small startup / entrepreneurial culture in SA.  Poor bandwidth doesn't help either.
There seems to be a genuine willingness and motivation to develop and build for the lower end of the local market.  Problems around this are understanding real problems that need to be solved (rather than perceived problems which may not be problems at all), and figuring out how to make digital transactions possible.
The idea of a co-working space in SA (JHB and CT) was well received.  This is something I'm taking up seriously both to bootstrap within, and jump start the local community.
There are some seriously smart people in SA. I would love to see them doing stuff on the global stage.  I would also love to see them revolutionising the next evolution of the African web.
People seemed to agree that niched communities are the way the web will evolve and organise itself, with Google as the entry funnel.  Nice to get affirmation of something I've been thinking in my head for a while now.
A good example of the above is http://obami.com/, which looks pretty interesting, check it out.  Best to Barbs!
Another web app / saas startup doing well is http://www.payspace.co.za/
https://www.ravelry.com/ is another example of a super niched community doing well. Thanks @Pam
Vinny is doing better with Yola than I thought (in numbers) ;-)  Good for him too, and great work dude ;-)
Geeks in SA know how to party. Don't challenge them to braai'ing and/or drinking.
Geeks in SA seem to like Macs and iPhones.  There were one or two netbooks, and one or two Thinkpads and HP machines… Even the corporate people had Macs.
Pretty much everyone at the event expressed an interest in going to SxSW next year.  Tally ho!
A big thanks to our hosts too, great venues.  Red Ivory backpackers, and the Elephant Sanctuary.
Other posts so far (will keep updating):
Photos (will keep updating):
Some startup tools (after the fact, but useful):
25 tools for startups (in comments of the above, but saves you the effort)