Events are where you meet great people and interact with folks who think like you.  In most recent first order, the ones I've participated in are:
---
Innovation in Africa is the purest form: innovation out of necessity.
Not Angry Birds, the innovations emerging from Africa allow farmers to check where they can get the best price for their produce, fishermen to be warned about storms, people to check whether medicines they are buying have expired, and rural cellphone users to send mobile money to each other using text messages. Even the pay-as-you-go payment system was pioneered in Africa.
Mobile phones are one of the great success stories of the world, and nowhere is this more evident than in Africa. They are the 21st century equivalent of the railroad. Except it's a bullet train.
Africa is the world's fastest growing telecoms market, second in size only to Asia. More people in Africa have a mobile phone than electricity. Africa is a mobile-first continent, but it really is a mobile-only continent.
---
Participant on "African Innovation: Local Solutions for African Challenges" panel, at London Business School African Day Conference
The London Business School Africa Day Conference is the premier conference of its kind in Europe and our recent past speakers have included African ministers, CEOs and Managing Partners of African focused institutions like the Standard Chartered Bank, MTN Group, Actis, and the World bank. Africa has held up remarkably well despite controversial evidence of rising wealth inequality, deteriorating public finances, and stagnating growth in western economies. Africa's economic liberalization, growing middle-class, and entrepreneurial success stories are increasingly coming to epitomize the world's hope and aspirations for "emerging markets".
Africa Day Conference 2012 seeks to bring the conversation around Africa's ownership role of affairs on the Continent to the London Business School campus. This year's conference, themed "Africa, Taking Ownership: Successes & Challenges", explores and celebrates the many ways in which Africans are taking ownership for their continent's destiny, driving reforms and propelling growth from within.
---
The title says it on the tin ;-)
Part 1
Part 2
---
27Dinner held an event in Johannesburg where I spoke on Why international viewpoints are important and relevant to Africans in the tech/digital space, and why being able to learn and interact with the best, means you can learn quicker, adapt faster, find better people and ultimately build better products.
---
The Homecoming Revolution held an event in London where the focus was on "The Great Trek Home", so largely around returning skills, starting businesses and how to do it all if you're someone returning back home. I was a speaker at the event, where i was asked to give practical advice on how to go about setting up a business in South Africa.
Also did an interview for Spirit of an Entrepreneur.
---
Was on a panel on "Crowdfunding in SA", where we talked about how the CrowdFund raised R1 million in around a week, where I talked about what I was able to offer to the CrowdFund as a board member and why it was important.  Really enjoyed meeting some awesome people from all over, and spending time with them. A group of South Africans made their way over for the conference (about 30 I think), so also really enjoyed spending time with them. View the podcast page on the SxSW site. Listen to the podcast here.
---
Product management workshop – Johannesburg
I'm of the opinion that there are not enough product management skills in South Africa, so this workshop was aimed squarely at giving of my knowledge to help people in Johannesburg.  Was attended by corporates and startups alike, and was well received.  People enjoyed the screengrabs from the early Kindo days, and some brass tacks experience from the trenches. Slideshare deck here.

---
Successful digital projects – London
One of my observations in the London digital scene is that there are very few people with holistic knowledge around implementing digital projects.  So there are people with some skills in various disciplines, but not enough experience or exposure in all of them to ensure that projects are successful.  The workshop (and what has now become an offering) was attended by agencies, individuals and recruiters. Slideshare deck here.

---
The GeekRetreat was an inagural event held at Hartebeespoort, where we pretty much got together for a weekend of debate, action and fun, that brought together people from the online business, media, PR, engineering and NGO tech space, to talk about how to make the South African internet better.  I gave a talk on bootstrapping. Arrived with an open mind and was pleasantly surprised. Great people, great time. Wish we could do them more regularly.
---
Talk on being an entrepreneur and the Kindo experience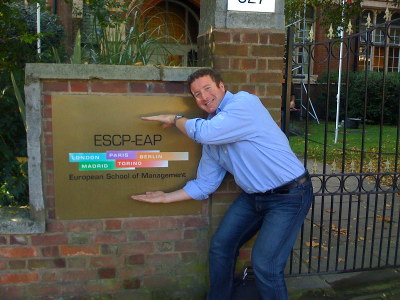 Did a talk with Mario and Martin for the 2008 class at ESCP-EAP. Talked about Kindo, and being an entrepreneur. Was pretty interesting, with some good questions coming from the sharp audience.
---
My 2nd SxSW. Gave a "core conversation" talk on building a startup you love, based on my experiences with Technovated and Kindo. Really enjoyed spending time with people I hadn't seen in a long time, and being exposed to people doing really awesome stuff from all over the world. Cemented the idea of TECH4AFRICA for me.
---
First FOWA, really enjoyed it. Was the start of Kindo for me.
---
My first SxSw. Changed things massively for me as it was the first time that I was able to interact with, and spend time with people from all over the world, that are doing interesting things and solving difficult problems. Inspiration for TECH4AFRICA.